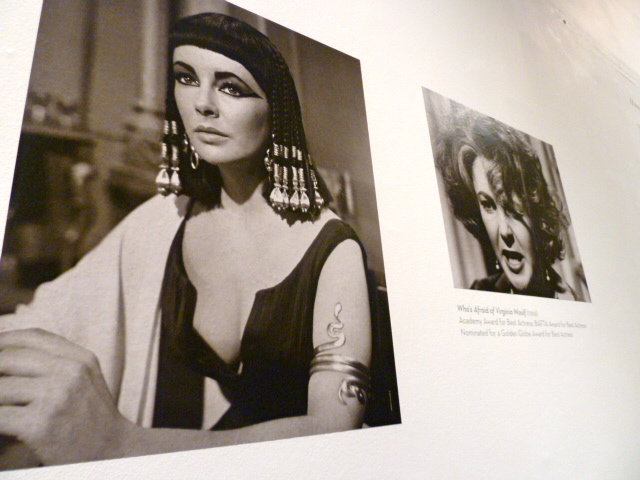 SHE WAS LATE, the day we met in 1999.  Not as late as her legend would profess, but late enough to remind us who she was.
That meant everyone waited.  The writer of that day's commercial, who happened to also be her ex-step-daughter, Carrie Fisher.  The legendary photographer; also her dear friend Herb Ritts.  Stylist – and Mick Jagger's paramour – L'Wren Scott.  And a host of supporting characters – make-up artists, hair stylists, wardrobe, lighting grips, assistants, the head of marketing for Elizabeth Arden and me, U.S. Regional Sales Director – West Coast for Harry Winston.  No one seemed to mind.  I mean, let's face it.  It's Elizabeth Taylor, forgodssakes.
Sugar came in first, leaving a trail of piddle behind.  Security guards followed.  Miss Taylor close behind on a golf cart.
The shoot was for both a White Diamonds TV commercial and print ad campaign and Winston was providing the ice.  Why Miss Taylor's own wasn't good enough, I don't know. Actually, when Miss Taylor saw the 104 ct. stone we brought, she did emit a soft squeal.  "Ooooooohhh!" she cooed, eyes wide.
"Let me take this (supernaturally-beautiful-Golconda-Richard Burton-33.19 ct. Krupp Diamond) off," she exclaimed while handing it to me, "so I can put THIS on!"  Without missing a beat – as she ooohed and ahhhed over the very, very large D,IF cushion-cut stone on her finger – she said, "Do you wanna try it on?"  Meaning, did I want to slip the infamous sparkler that caused Princess Margaret to utter, "how very vulgar" on my finger.  "OMFG" my inside voice was screaming, while I silently slipped it on.  "Wow!  What an incredible thrill!"  is all I could muster.  She grinned.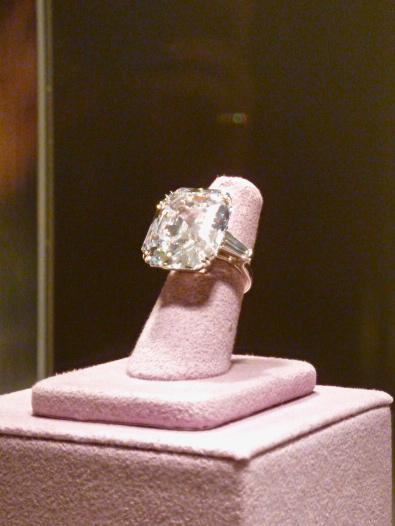 (The 33.19 ct. Krupp est. $2,500,000 – $3,500,000)
"You know," she began, " John made me sell the 69 ct. pear shape Richard gave me and I have NEVER gotten over it!"  (Second OMFG!  What am I hearing?!?!?)  "He needed to finance his campaign and I wanted to make him happy, and well… I still miss it!"   Extraordinary Moment Number One.
Make-up  staff flurried about, but Miss Taylor did her own.  She did her own. Extraordinary Moment Number Two.  The crew on the set fluttered and buzzed.  Miss Taylor settled into her seat and a voice from the shadows shouted, "Mom!  Are you ok??"  Violet eyes swiveled, a laugh filled with familiar affection erupted and Carrie Fisher started doing schitck making La Liz cry with laughter.  Extraordinary Moment Number Three.
Herb Ritts starts to shoot.  He asks if Elizabeth can deliver a line a slightly different way.  "Can I say that?  Of course!  I am an ACTRESS!"  Silence from the entire room.  She delivers.  Cut.  Applause.
Now everyone and their basset hound want a picture with her.  I am shy/respectful/panicing/opportunistic.  I lie in wait.  Four, five, six different people jump in the frame and her back – a well-known ailment – has flared up and she is ready to drop, but a pro.  I watch to see if it's cool to finally jump in, thinking… "If I don't, I will never have this chance again," but still hesitate.  She sees me standing in the shadows – my eyes must have been like those on 1950s ballerina paintings.  "Come on!"  she beckons.  I lean in close and whisper, "I am going to have to be sooooo retouched!"
"Witch!" she replies and we both laugh.  Sugar, who is still in frame, does not.  Extraordinary Moment Number, um… I lost count.
The exhibition of her jewels at MOCA by Christie's, displays one of the most extraordinary collections of not just significant jewels in the world, but the most glamorous and most personal.  Her intense passion for the fire of precious stones is legendary in cinematic history.  Her association with them, uniquely unparalleled.
Although well familiar with each piece, seeing them today on jeweler's forms behind plexi boxes, I was actually still a little gaga.  Their scale is monstrous.   This was a fairly petite woman who carried these exceptionally large jewels as if they were made for her.  Some were.  But most, had legends of their own.  And she wore them as to the manor born.  There will never be another Elizabeth.  I bow.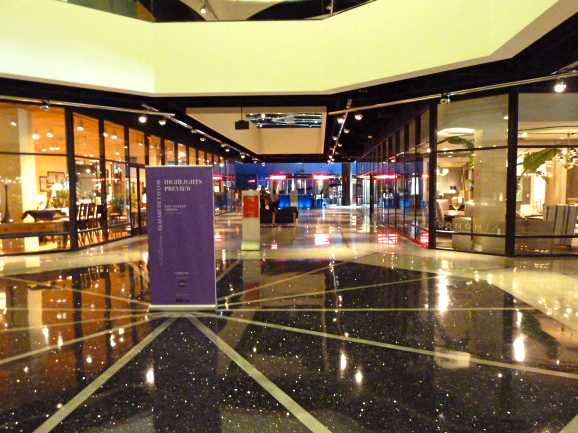 The entrance – as sparkly as it is, not quite as dazzling as what's to come.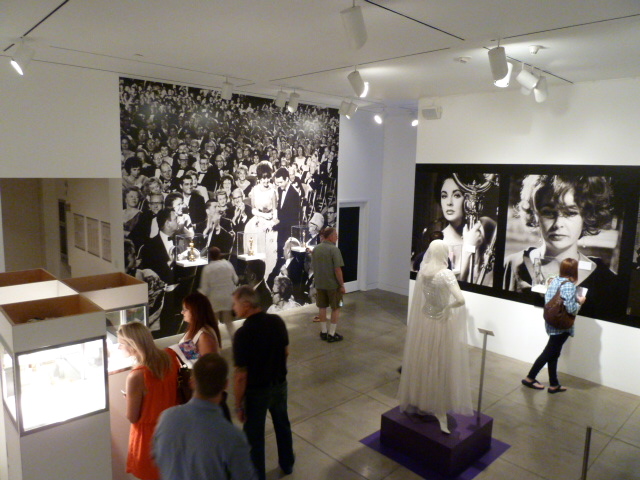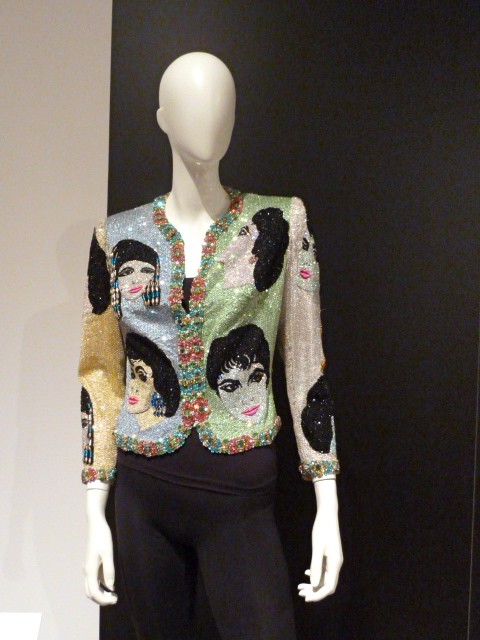 Versace "The Face" est. $15,000 – $20,000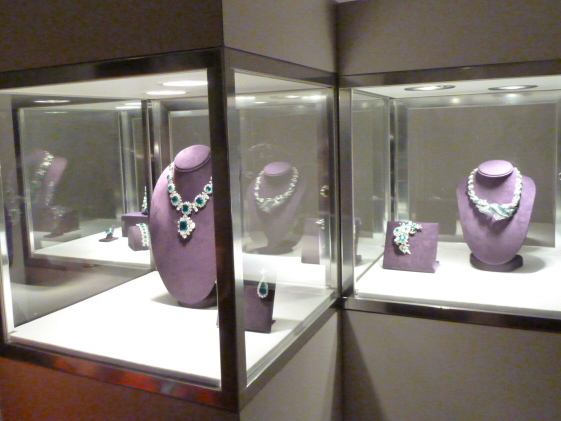 From Richard Burton
Bulgari Emerald & Diamond necklace est. $1,500,000 – $2,200,000
Bulgari Emerald & Diamond ear pendants est. $150,000 – $200,000
Bulgari Emerald & Diamond brooch est. $200,000 – $300,000
Bulgari Emerald & Diamond bracelet est. $300,000 – $500,000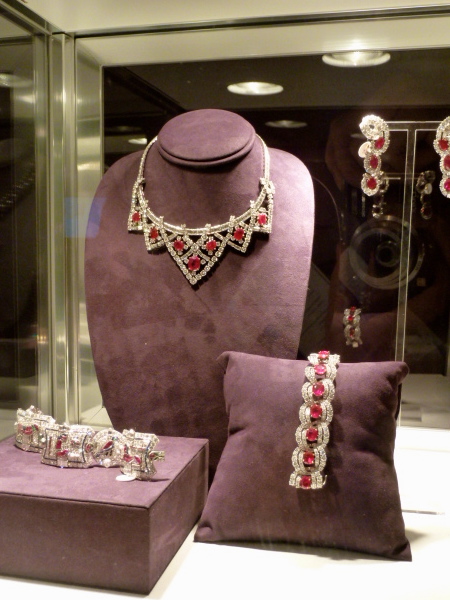 From Mike Todd
Cartier Ruby & Diamond suite
Necklace est. $200,000 – $300,000
Earrings est. $80,000 – $120,000
Bracelet est. $150,000 – $200,000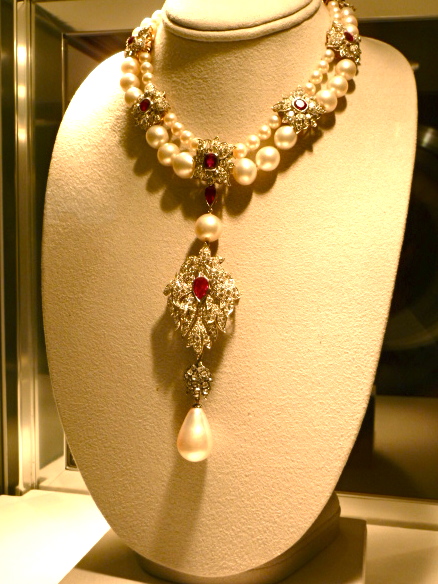 From Richard Burton
The "La Peregrina" Pearl, mounting by Cartier est. $2,000,000 – $3,000,000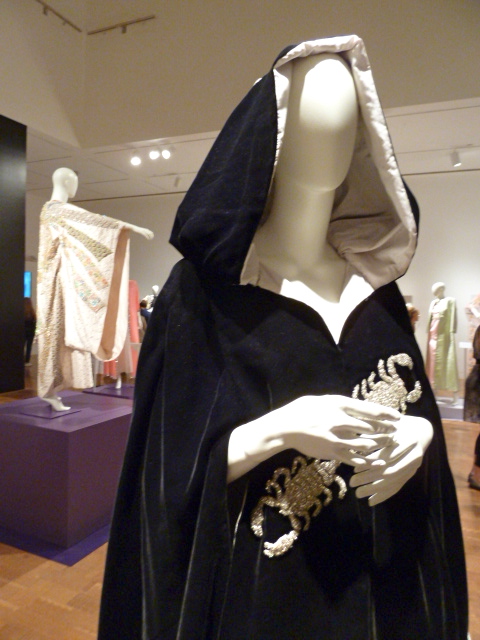 Tiziani Black Velvet cape made for the "Scorpio" Ball. est. $2,000 – $3,000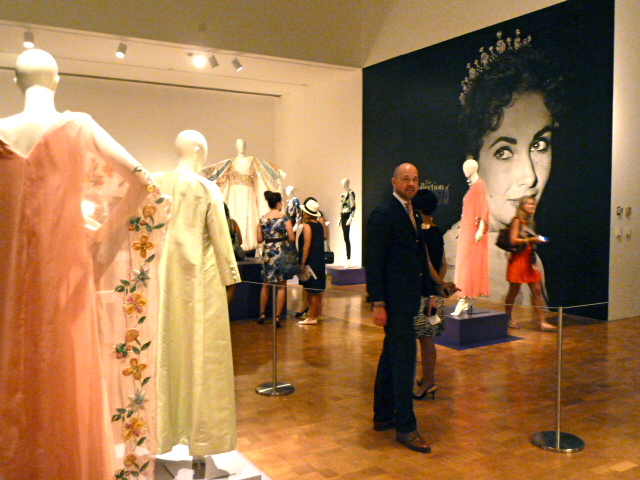 Christian Dior gowns and my friend Brett Sherlock, Head of Christie's Canada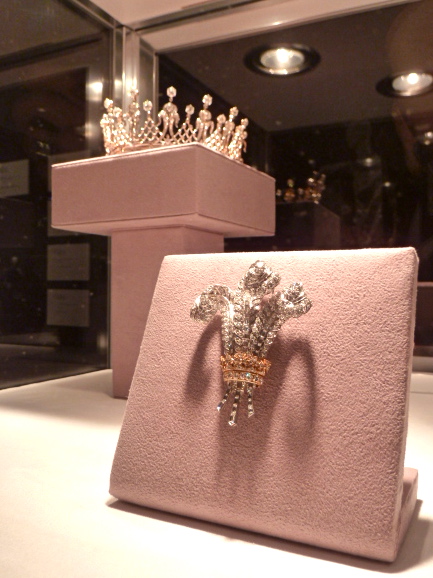 From Mike Todd
Diamond Tiara circa 1880 est. $60,000 – $80,000
The only jewel Elizabeth bought for herself
The Prince of Wales Brooch $400,000 – $500,000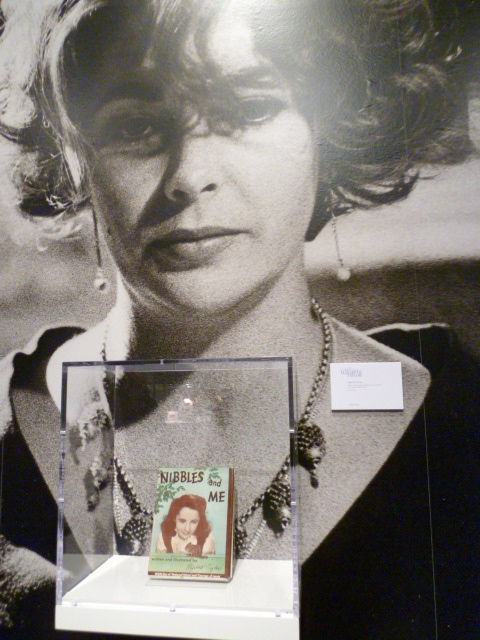 1946 "Nibbles and Me" written and illustrated by Elizabeth Taylor est. $1,000 – $1,500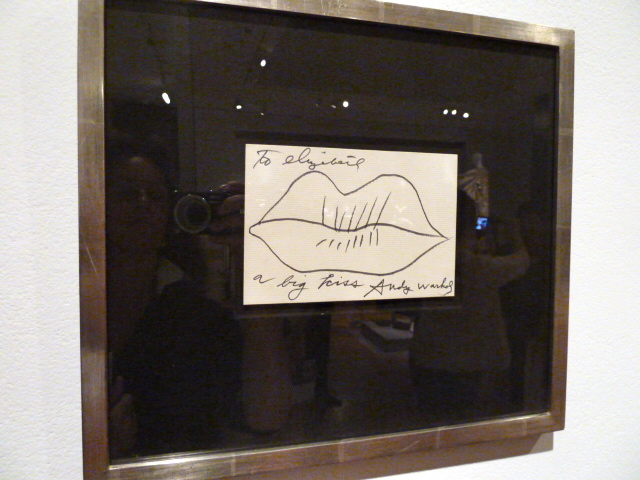 "A Big Kiss" by Andy Warhol est. $6,000 – $8,000