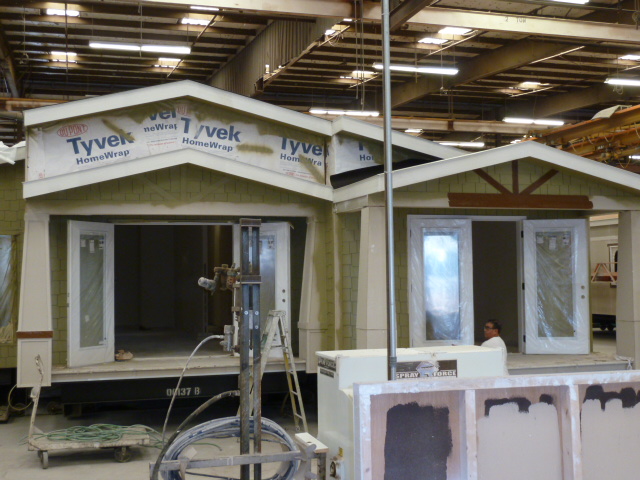 "CUSTOM PRE-FAB" SOUNDS LIKE AN OXYMORON, I know.  But, you'll be intrigued to learn it is not.  In fact, designing these build-by-numbers dwellings has become my passion.  And vocation.
Although, I will say the drive to the factory where they're built is jarring no matter how many times I make the run.  "We Buy Guns" the electronic billboard on the 91 East flashes, quickly followed by "Someone with a mental illness is cured everyday."  It makes me wonder if the billboard's marketing department is monitoring the rotation of their clients.
Anyway, as I pass Sid's Carpet Barn I am energized with anticipation; the home I've spent four months designing and  "living" in, in a 2 dimensional world is about to become 3-D.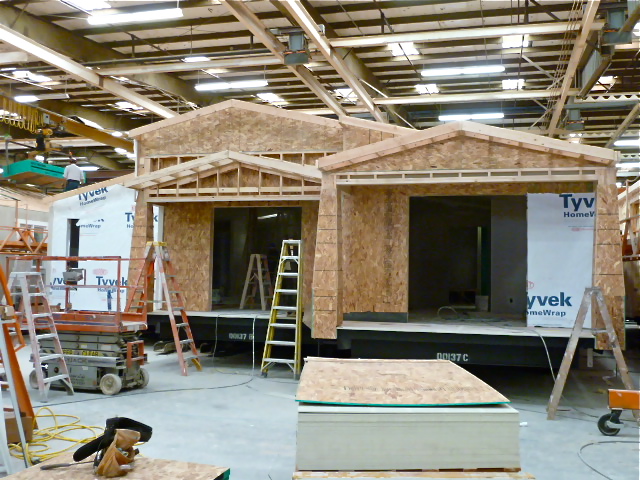 For some reason my therapist has yet to identify, the thrill of walking into this world of my creation is deeply moving; each and every time.  Whether designing for myself or a client, I walk each hall, reach into every closet, serve dinner across the kitchen counter and gaze through every window in my mind hundreds of times before I hit the "approved" button.
Views and natural light are everything.  Space and dimension.  And skylights; lots of them.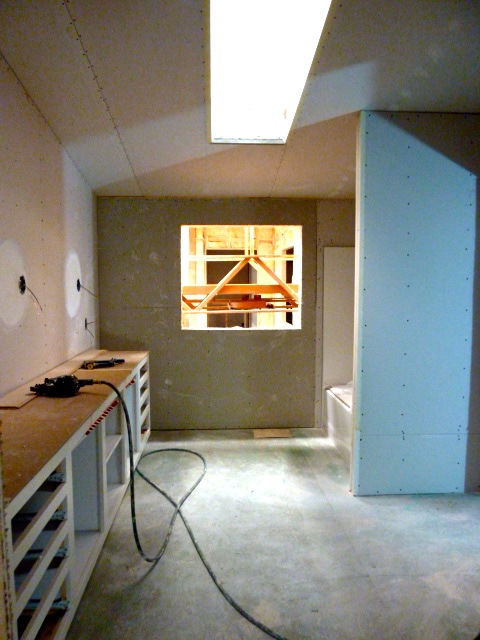 Working with Silvercrest in Corona (my Jag's GPS for some freakish reason, won't even save the address) allows for maximum creativity, customization and quality.  One of the best in the business, they are the Golden Retrievers of pre-fabs.  A designer needs this desire to please – especially from a factory.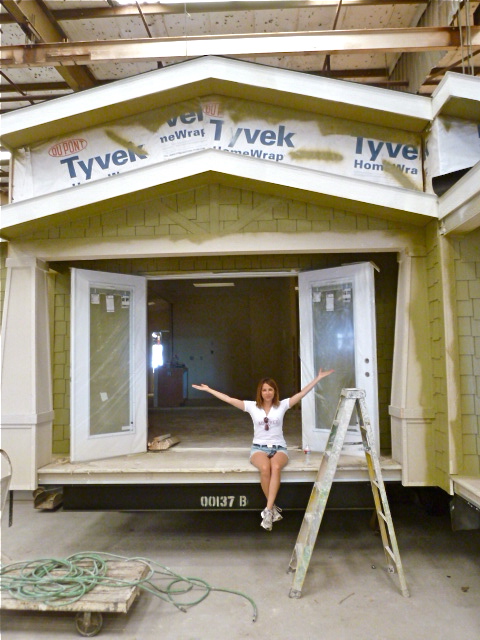 (My happy client.)
The process – in this case – has sped along faster than I could even react.  Three months of design (back and forth with the client, the construction team at SCI, the factory) and another month in engineering (because I am always pushing their buttons), but only four weeks to build.  Seriously.  By the time I learned construction had begun, drywall was up. It's crazy cost-efficient, crazy "green" and all around wacky.  Which I also love.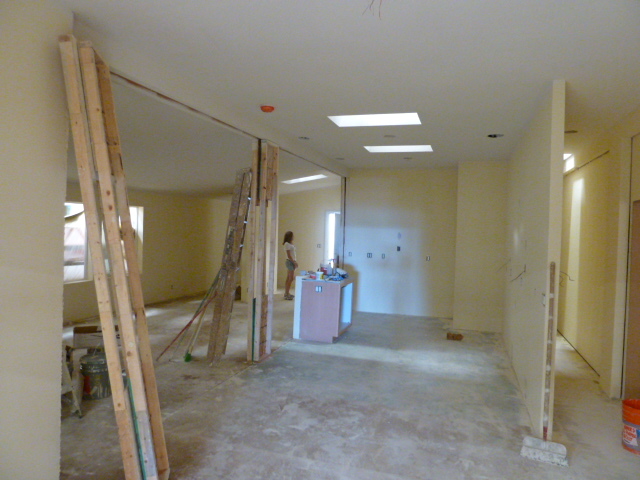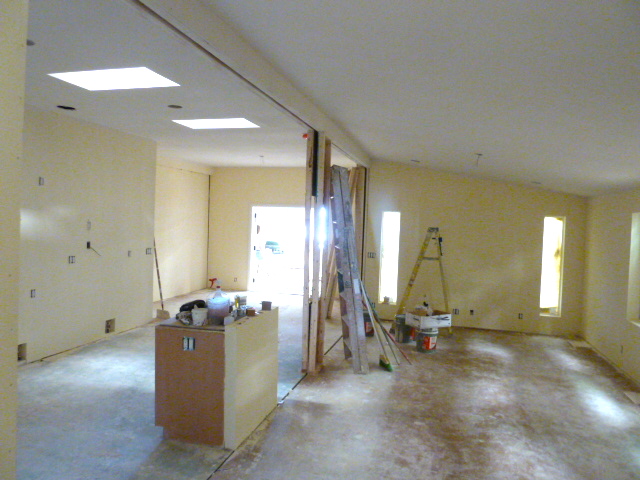 The home – although delivered in sections – is actually built together as one space.  Under a roof in a MASSIVE warehouse facility (bigger than a sound stage OR airplane hangar), the various craftsmen descend on the project in swarms facilitating swift completion.  Then it's sliced apart for transport.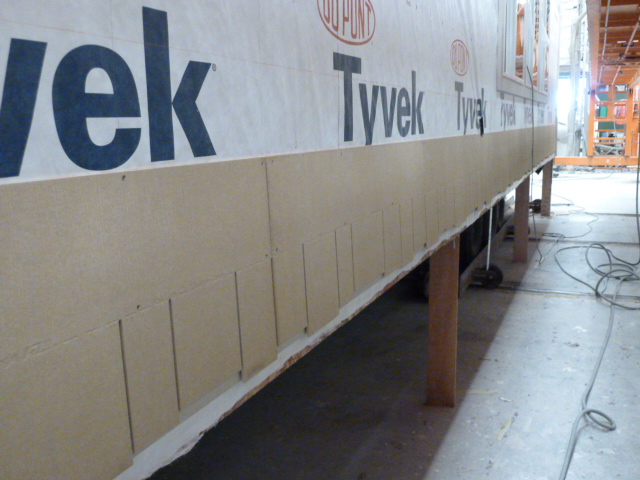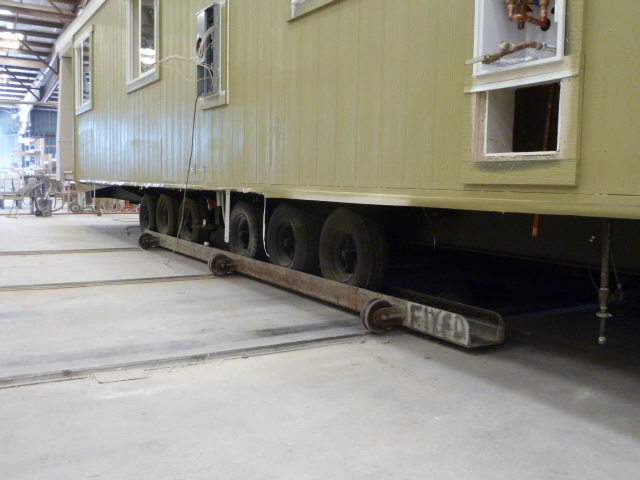 Once completed, the home sits in a parking lot waiting to be delivered.  After the site is prepared (don't get me started on this – I'm just the creative talent), the transport crew contacts the CHP, gets permits, roads are closed and wheels hit the pavement before the crack of dawn.
After arrival, it's a matter of hours before the various manufactured modules are whipped into place and cinched together.  If I was smart enough to work a camcorder (are they still called that?), I would have a video to show you.  As it is, you'll have to be pacified with stills.
Which will be the NEXT blog!  Ha!  Just like an old-fashioned cliffhanger.  Did I just show my age?  Oy.