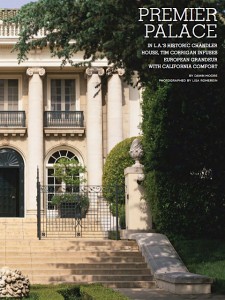 "IT'S THE ONE THAT LOOKS LIKE A PUBLIC LIBRARY," Tim Corrigan affectionately offers as directions to his fabled Windsor. Square home. Indeed. The majestic 1913 Beaux-Arts manse built for Westwood's developer Peter Janss by Julia Morgan's architectural team and later inhabited by Norman and Dorothy Chandler was designed in a style favored at the time for other "intimate" spaces like museums, courthouses and railroad terminals.
But it was that exact pedigree that drew Corrigan to the home when Dorothy "Buff" Chandler died in 1997. "I swear I'm not an ambulance chaser! It just happened that I was able to see the house the same day she died and said, 'We'll take it.'" Having grown up in the neighborhood, he nursed a lifelong affinity for the house and its aesthetics, a style Frank Lloyd Wright called "French pastry." Corrigan closed escrow two weeks later.
Cobbled together through memories of various Chandler intimates, the home's glorious history causes Corrigan to bubble with enthusiasm. Ask around, and there's no dearth of anecdotes, even randy hearsay about when Kennedy stayed here during the 1960 Democratic Convention. The reporter assigned to cover him watched as he crawled out the second-story window of the gentleman's guest room, down over the terrace and walked three blocks to the apartment where Angie Dickenson lived. Allegedly, he didn't return until the next morning. (Apparently, neither Eisenhower, Johnson nor Nixon, who also spent nights in the suite, was quite as athletic.) More history was made in the half-round guesthouse, original to the property as the first office for Dorothy Chandler's legacy to Los Angeles, the Music Center. Next to a door embedded with jewel-toned bottle glass, Corrigan points to where the philanthropist's secretaries' typewriters clicked and clanged over letters imploring the city's wealthy for d6nations.
Corrigan's transformation from advertising executive to architectural historian and designer grew out of a slow burnout in the corporate world. After achieving the post of president of Bates International, a worldwide advertising and communications agency, Corrigan realized his passion for the executive life was on the wane. "I loved the creative aspects, but at the end, I could have been selling widgets." His purchase of the maintenance-deferred "Los Tiempos" (The Times), as the house was named by the Chandlers, dovetailed nicely with the creation of Corrigan's firm, "Landmark Restorations." Clients from British royals to Hollywood stars like Sarah Jessica Parker and Matthew Broderick, Madonna and David Schwimmer soon followed. While not formally trained, Corrigan's encyclopedic knowledge of architecture, fine art and decorative art history spans four centuries, yet the six-foot-four tastemaker's effusive charm vanquishes any potential intimidation.
In fact, the house and its museum-quality contents are surprisingly livable. Put your feet up, welcome the dog's muddy paws, spill that champagne – Corrigan takes it as the highest compliment. Embracing the centuries-old traditions of European interiors, Corrigan assembles his client's homes as if pieces were amassed over the generations. "Europeans will inherit a rug or a painting and not worry so much about colors matching. I think it creates a more inviting and comfortable atmosphere." Certainly Winston, Corrigan's practically ancient Westie, seems to agree as he pads about on the library's Tabriz.
The house's sublime craftsmanship, courtesy of Morgan's team and further enhancements by the Chandlers, is the stuff of legend. Faux-marble Venetian pillars brought from an 18th century palazzo grace the living room against walls covered in travertine from the Music Center; French hand-painted paneled doors lead to Mrs. Chandler's sitting room, and perhaps most famously, wood and silk boiserie paneling imported from the German castle of a patron of Mozart glows in the music room. Corrigan has added a few treasures of his own, including a silk damask sofa that once be- longed to Doris Duke, a vast collection of Old Master paintings, including works by Francois Boucher and Rubens; and a Steinway signed by Rachmaninoff and Van Cliburn, purchased from the Chandler estate. There's a story everywhere you turn.
Corrigan can only explain his overriding passion for preservation ("This was a restoration, not a renovation") as a past life thing. With both parents in the arts (his mother, an actress and voice teacher; his father, CalArts' first president), he grew up in a traditional Georgian surrounded by his parents' cherished collection of contemporary artists like Lichtenstein and Frank Stella. "My father was a real revolutionary, really about the cutting edge in art, theatre and dance." But, it was his grandparents' taste for traditional furnishings and his seven-year stint in Europe for Bates that awakened his appreciation of aged structures and furnishings. Ask Corrigan what gets him out of bed in the morning and he waxes eloquent on his love of the challenge inherent in adapting old structures for modern life. "What I really love is figuring out the structural reworking of a building, how it should flow."
In what was a former rabbit warren of four rooms, the expanded kitchen offers the only apparent concession to the 21st century-a plasma television. Even so, the new cabinetry is crafted to exactly match the original, hardware and all. But the real clue to Corrigan's peccadilloes lies inside the drawers: one devoted entirely to banana taffy, another for nuts and a third for anything Entenmann's. For all his exquisite taste in design and gracious living, Corrigan's taste in edibles runs to the, well, plebian. "I am embarrassed to say I probably work 10 to 12 hours a day, six or seven days a week. I don't have much of a personal life!" Or, apparently, time to cook.
But how could he possibly, with only nine employees between offices in West Hollywood and Paris, wrangling projects worldwide? "I currently have three in Chicago, eight in L.A., one in Santa Barbara, one in London and two in France." Then there is his new resale venture. Adhering to his mantra of "authentic and beautifully crafted," Corrigan did not want to create reproduction furniture and slap his name on it. And why should he when he has a 12,000-square-foot warehouse filled by years of collecting antique decorative arts from all over the world? In September, via the Internet, the pieces will be available to the trade and "civilians" alike. And as a fitting accompaniment, Corrigan has developed cleaning products specially formulated for antiques.
Regardless of all the opulence, Corrigan insists a home is to be lived in as he curls up on the Duke sofa with Winston in his lap. Winston is happily oblivious to his surroundings, although Corrigan notes he occasionally barks at the empty chair that hosts Dorothy Chandler's ghost. "Dorothy tends to show up around her birthday," he says-no doubt to keep an eye on her beloved estate and its current gatekeeper.