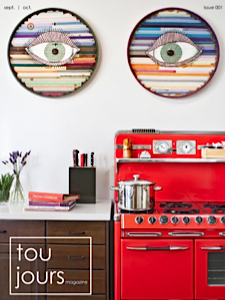 I LOVE THE LOOK ON PEOPLE'S FACES when I tell them I live in a trailer park.  "Is she kidding?" their dilated pupils exclaim.  Head tilt (theirs).  Beat (mine).  "Really."  I confirm.
I had been living a highly unsustainable life in a mid-century Encino Hills ranch for eight years.  3000 square feet of published perfection:  formal landscaped gardens, Schumacher fabric-covered walls, marble baths. The term "grown-up" would be periodically uttered by friends as in, "she's such a grown-up."  (You know, even if you technically are, no one wants to be called one.)  The maintenance of this environ had taxed both my psyche and wallet when finally, a disobedient sprinkler head made me throw in the towel.  Now what.
If you're going to live in L.A. you should have a view, I reasoned.  And quirky architecture.  Well, a kooky trailer park in Topanga Canyon certainly qualified for the later.  When I learned I could create a custom home, own the property and sequester myself gazing at a multi-million dollar view, I was in.
Having always loved the board and batten cottages of Montecito's San Ysidro Ranch, I took my cue from their stone fireplaces and weathered floors for the home's vibe, but looked to Case Study architecture for the volume and light. Experienced with building homes, but not with one built on wheels, to say I was doe-eyed would be gentle. However, a partnership with premier manufactured-home builder Silvercrest and their savvy agents Structural Consultants significantly reduced my accelerating angst.
The hillside site begged for walls of glass to allow the sparkling San Fernando Valley to spill within. Clerestory windows and skylights in the kitchen, bathrooms and hallway caused some re-figuring of the truss system (and subsequent grumbling by the factory's engineers), but proved crucial to maximize the view and energy usage.  In fact, with the low E dual-pane windows, tankless water heater and energy efficient appliances, my utilities bill are never more than $150. Combined
Chalk up one for off-site building. And the genius of my landscape architect Ron Smith who surrounded my cottage with drought-tolerant lavender and rosemary.
Soulful interiors – i.e. ones with integrity – come from the thoughtful display of your stuff, not stuff made to look like your stuff. That said, paring my stuff down to a half-sized home required quite a bit of editing.  Self-medicating and editing.  An extraordinary turn-of-the-century Rococo game table made the cut; the collection of Sevres porcelain, not.  A mahogany balloon-back chair with original horsehair seat, in; the 200-piece collection of American cut glass, out.
The living space was designed as a single open area genuflecting to the view.  A neutral palette was chosen so the warm burl and walnut antiques could anchor the organic textures encouraged by the terrain.  Sensual fabrics including velvety corduroy and chenille in blond and vicuna hues continue the visceral experience.   And living in Topanga is nothing if not visceral.  Can you say "sandalwood incense?"
After this experience can I envision a pre-fab utopia?  You bet, just ask me.