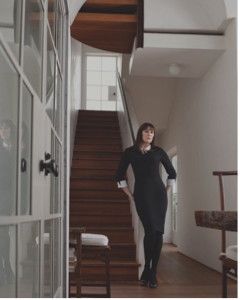 THE ARCHED BROW. THE CRISP BANGS.  And the look that suggests she knows something you don't. Anjelica Huston's exoticism has been captured by lensmen from Avedon to Newton and landed her in Vanity Fair's celebrated International Best-Dressed List's Hall of Fame. Leading up to this month's release of Watch Me: A Memoir (Scribner, $28), Huston's follow-up to last year's A Story Lately Told: Coming of Age in Ireland, London, and New York (Scribner, $25), the Oscar-winning actress shares thoughts on everything from the "daddy complex," becoming a potter and her security blanket, "Pinky."
The title "Watch Me" sounds like a dare…
It kinda is. It comes from a story in the book where somebody tells me that I'm never going to do anything with myself.
How difficult was it to go back over parts of your life you thought were finished?
Well, I still entertain thoughts and memories of my parents every day. I feel it's all a big wave, a big motion that takes a lot of stuff with it. Life is an immense canvas. The sad stuff should move you and the good stuff should entertain you.
What was the most surprising thing you learned about yourself in the process?
I think before I wrote the book I thought the cliché of girls looking to marry men like their fathers was rather obvious, but looking back at my choices over the years, I think it's very evident that "daddy" was a big part of my passion and my search.
"A Story Lately Told" ended with your move to NY, so "Watch Me" begins with your arrival in Los Angeles and the party that launched the "IT" couple of the 1970s – you and Jack Nicholson. What was his reaction to the manuscript? 
I think positive. I sent it to him because I figured if he had something in particular he wanted taken out or something he was uncomfortable with, he should have that opportunity. I haven't talked to him at length, but we had a few laughs at a party this summer and he said, "good work." I think he takes it all with good grace.
So, he's still taking to you?
Yea, that's good enough!
 You've said that you think you were looking to reincarnate your father – and your mother – in your relationships. What in your late husband sculptor Robert Graham fulfilled that quest?
Oh yes! I think I'm always looking for my mother, too. Bob was kind of a wonderful combination of both in that he had an almost feminine sensibility for beauty and art and he was very intuitive. Very emotionally perceptive, very loyal – like my mother. And like both of them, he was a reader, he was provocative, and above all creative.
And he had the finest pair of hands you've ever seen. Beautiful small café au lait hands the prettiest fingers. I would say perfect hands… I love hands!
Given that all the men in your life were singular, rougish aesthetes, it would be almost impossible to not lose your sense of self. Yet you are a woman of tremendous individuality. Was acting a way to carve your own path?
Oh yes, it was. Also, I am extremely stubborn. I mean more stubborn than anyone has a right to be. I know it made my father crazy. I'm like a mule, you know? If I hadn't been as stubborn as I am, I could have easily subsumed into any one of those characters. And I did for a while. Certainly when I was with Bob Richardson, I began to fear I was becoming his puppet. And I never wanted to be anyone's puppet.
If it had turned out that you didn't have the acting gene, what would you be doing?
Oh God, I don't know! I'd either be doing something with animals or I'd be buying houses, decorating them and then selling them off for vast amounts of money. I LOVE to decorate. And I like to find things, place objects, choose fabrics. I'd like to be one of those designers that comes into a room and says, "I'd like this to look like the inside of a pearl" and then have a team of assistants place orders!
If I poked my head in your closet right now, what would make me laugh?
A sort of salmon-colored suit that I had made for the Carousel of Hope Ball. I have never chosen this color in my LIFE except that it matched this very beautiful coral necklace by Marta Marzotto that I have. I chose the color because of the necklace, but I mean… I had no idea… I kinda look like I was going to the Kentucky Derby!
What's the first thing you put in your suitcase and the first thing you unpack when you're traveling?
Pinky. Pinky is my cashmere blankie and she comes with me on the plane. She's kind of a ratty cashmere shawl, halfway between shawl and blanket. You know on planes, you can put her over you head or wrap her around your throat or across your lap. There was Pinky One and she got lost, so now I have Pinky Two, but she has the same basic beauty.
The Venice home your husband designed as a gift for you was spare and dramatic. Yet the ranch you've owned since the 1980s is "Cozy Cowboy." What is the common thread?
I kind of like to make the most of what I think the place is, rather than to torture it into something else. Although I have to say when I first got my ranch – which is a plains adobe – up there in the Sequoias, I was working on Lonesome Dove and was influenced by all things southwestern, so I painted my windows turquoise and put big vigas in the living room. Ok, so I tortured it a little bit into Cowboy Cottage.
If you designed something yourself … wait, have you?
NO! Absolutely not – not even a shack!
Sounds like you might want to?
Yes, I might want to. That could be something! All in all I like sort of plantation homes with wide terraces surrounding the house – kind of British Colonial. I am actually pretty conventional. I don't know where, but I think I'd like a house with a view.
What dreams have you yet to accomplish?
I've always liked to draw, and I've never had formal training. I don't know if I have the patience for it. Maybe get into pottery and start learning how to throw clay. It goes along well with women a certain age. People like Louise Bourgeois who I think is just the essence of strength and femininity. There's something powerful about being a grown-up woman and being a potter.
What would you say is the Huston legacy?
Well, my father always used to say "interest." If there's one thing I can say about my family is they are genuinely who they are and are unapologetic about that. And they have a kind of ferocious love of life. Which we will all squeeze the last drop out of!