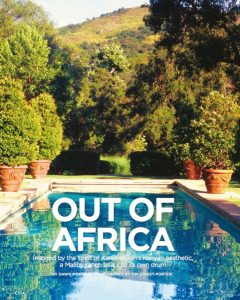 THE 'BU COASTLINE  is rife with power brokers, movie stars and surf fanatics averaging maybe seven feet between neighbors.   But above them, there is space. Glorious space. Just ask Chris Cortazzo, who owns a slice of enchanted forest like no other. "I am sure elves and fairies live on this magical property; the spirit of the land is so powerful and positive." And so is the house itself, boasting an intense tribal vibe throughout. Therein lies Cortazzo's charm. Coldwell Banker's top producing realtor in the U.S. hails from Malibu and appreciates the value of this land. A 30-year-long vegetarian, he has an elaborate (unused) outdoor grill and a menagerie of rescued feathered friends that include turkeys, chickens and peacocks. "They don't have names, but I know all their personalities." No doubt his two German shepherds, Lola and Tazzo, do, too.
The 28-acre property loops up and down soft knolls and winds around the original 1940s California ranch structure. "It's the most amazing place to entertain [whether for a friend's wedding or an intimate gathering for allies from one of the 40-plus organizations Cortazzo supports, including PETA, Elton John AIDS Foundation, Boys & Girls Club and Farm Sanctuary]. Whenever I say there's a party at the ranch, everyone scrambles!"
While in escrow on the property in 2006, a New Year's sojourn to South Africa's Royal Malewane lodge (with close friend and interior decorator Martyn Lawrence Bullard) ignited the interior's inspiration. Cortazzo was first introduced to the continent by lensman Herb Ritts while assisting on a shoot in 1993. Ritts encouraged Cortazzo's love for both photography and African culture. Since then, Cortazzo has added images from Peter Beard, Nick Brandt, Richard Gere and, of course, Ritts himself. Prominent as they are, the emotive works offer a backdrop to the treasures collected over 20 years: beads from Tibet, artifacts from Peru, candlesticks from London, ceremonial jewelry from South Africa. And Bullard's aesthetic was a perfect match. Cortazzo's directive to the designer? To be able to curl up in any corner, barefoot. "The central hub is a cocoon for Chris," says Bullard. "Luxurious, ethnic fabrics yet comfortable and laid back."
Perfect for those cool evenings tucked in with a little carbon-neutral vodka.