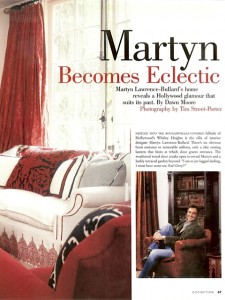 NESTLED INTO THE BOUGAINVILLEA-COVERED HILLSIDE of Hollywood's Whitley Heights is the villa of interior designer Martyn Lawrence-Bullard. There's no obvious front entrance or noticeable address, only a chic rusting lantern that hints at which door grants entrance. The weathered wood door creaks open to reveal Martyn and a lushly terraced garden beyond. "I am so jet-lagged darling, I must have some tea. Earl Grey?"
Drawn to this coveted area three years ago by friend and neighbor Tim Street-Porter, Lawrence-Bullard heard of a house that was about to come on the market, snuck in to see it the next day, and was in escrow 48 hours later. "It was a wreck! A complete wreck," he sighs. The kitchen was painted purple with orange tile flooring, the walls surrounding the living room fireplace were mirrored, the master batahroom's original black–and-mustard Malibu tiles had been painted beige, and a dining room window had been stuccoed over. Paint and elbow grease remedied most of the nightmare, but as the neighborhood is designated a National Historic District, the rules on building changes are stringent, so the window lies in wait within the wall for now.
Built in 1923 along with 200 other terracotta tile-roofed Spanish Colonial villas, Lawrence-Bullard's home was first inhabited by Rudolph Valentino. Next, Gloria Swanson set her size 4 foot across the threshold. William Faulkner later typed in the sun on the master bedroom's balcony. And still later, when the studio tried to put Miss Swanson up at Falcon's Lair while filming Sunset Boulevard, she balked and asked to stay again at the small villa down the narrow, winding street. Thus the home is christened Villa Swanson.
This history enchants Lawrence–Bullard as he shows off the sconces Valentino hung in the stairwell ("They're crazy-looking things! Aren't they fun?") and a chandelier of La Swanson's. He is the first to acknowledge his whirlwind life seems to have come full circle, "a classic Hollywood story in reverse," as he likes to say.
Scene: A traditionally trained actor from the Royal Academy of Dramatic Arts comes to Hollywood to become a star. His part gets cut, so what's a boy to do? Sell vintage jewels at the Rose Bowl, of course. "I went and set up these huge Indian bowls on stands and put jewelry in them," he says. "I came home with $50,000." Certainly more profitable than waiting tables.
Then a bit part portraying Eartha Kitt's boy toy in the film I Woke Up Early on the Day I Died opened an unexpected door. The film's producer loved Lawrence–Bullard's house and asked him to redesign his offices, which lead to Liz Heller at Capitol Records, which lead to Cheryl Tiegs. "Liz was getting married and seated me next to Cheryl," he explains. "Cheryl said, 'I've just bought this awful Hawaiian house. Would you come and look at it?'" Lawrence–Bullard turned the lava rock 1950s ranch house into a sexy Balinese–style pavilion.
"There we sat," Tiegs says, "on two little folding chairs in my empty living room. I asked him to show me tear sheets of his work and, well, he showed me fabrics he liked." He won her over, and within nine months, stories ran in six international magazines. The bold-name clients quickly followed: William H. Macy and Felicity Huffman, Edward Norton, Rebecca Romijn, Christina Aguilera, Patti La Belle, John Stamos, Craig Kilborn, and Aaron and Julia Sorkin.
Lawrence–Bullard's signature exotica, inspired from the cultures and aesthetics of Turkey, Portugal, Spain, Bali, and England richly layer his interiors. Tobacco-hued carved woods, fabrics in deep jewel tones of ruby and amethyst, and the shimmer of crystal and silver deliver an earthy sexiness that is the hallmark of his work. Primitive pieces mixed with fine masterworks create a softness in his living room, despite the black-and–white scheme with splashes of merlot inspired by ancestral portraits of his mother's Italian family. "So I really do have noble blood! Penniless, but noble."
Two magnificent pieces stand out amid many museum-quality furnishings: An 18th-century Milanese ebony secretary inlaid with ivory in allegorical depictions of Bacchus graces the living room, and in the dining room an ebony 17th–century jeweler's cabinet intricately inlaid with ivory inside and out stores his grandmother's ivory-handled flat- ware. "I started collecting items of ebony and ivory,' Lawrence-Bullard says casually – an understatement at best.
From the hand-stenciled dining room ceiling hangs the Swanson crystal chandelier. But Lawrence-Bullard is nothing if not theatrical, so he hung crimson Turkish incense jars from the bronze arms just for fun. "The dining room chairs are early 19th century with mother-of-pearl inlay, and I had my painter do my family crest on the backs," he says. "I think I've just made them better."
Every surface is covered in exotically luxe objets – Venetian gilded frames, boxes detailed in ivory or mother-of–pearl marquetry, silver- mounted horn epergnes, and shagreen trinkets. Yet, in a gesture that belies the preciousness of his collections, he casually pushes aside a delicate ivory box atop the coffee table (made of an 18th-century panel) to set down his Hermes teacup. "I'm all about comfort," he says. "Things have to be lived with."
Tiegs underscores this. "I asked Martyn, 'Can't we put some fresh rice paper above the fireplace where it's getting smoky?' And he said, 'No. You live in your house and it should look lived in.'"
Given his penchant for entertaining, this is a good mantra to embrace. Almost every room of the house transitions up or down a stair or three, yet parties for more than 100 have traversed the espresso-colored planks reclaimed from an old barn in Iowa. "The only person who has ever fallen was a waiter serving drinks!" he says. Dimmers and candles set the mood at these soirees, and as he doesn't cook, a chef is brought in to preside over the vintage O'Keefe and Merritt stove set in the niche surrounded by original Moroccan tiles. But ask for champagne and he opens the refrigerator to reveal bottles of Veuve Clicquot, Pink Cristal, and Dom Perignon, plus a few liters of Fiji water for good measure. (And should you be lucky enough to be invited to spend the night, don't bother to pack your jammies; perfectly pressed French toile du jouy pajamas – in your size and matching your suite's walls, curtains, and linens – await you in the closet.)
Clearly there is little reason to stock the kitchen with perishables. Lawrence-Bullard's schedule revolves around three TV shows, including TLC's Material World; designing a new furniture, fabric, and home-fragrance collection; and opening a jewelry store on London's Walton Street with actress Tamara Beckwith. He globe-hops from London ("I just landed last night; we're working on Vidal Sassoon's new home") to Mexico for Girls Gone Wild creator Joe Francis to New York for hip–hop's Damon Dash, and to Palm Springs for his latest project, the Colony Palms. The Spanish hacienda was built in 1935 for Seabiscuit co-owner and Purple Gang mobster Al Wertheimer. It is Lawrence-Bullard's first hotel commission. "I'm keeping the Spanish bones, but making it edgy and funky," he explains. "In fact, the basement was a speakeasy and brothel with these erotic art deco murals – which we're keeping." The owners were drawn to Lawrence-Bullard's taste for the dramatic, and encouraged the creation of outdoor sleeping areas with head- boards upholstered with fabrics hand-woven in 400-year-old Turkish tribal patterns and "a Spanish side table and the odd Eames chair thrown in."
Begging apologies that he has to run off and check in at his new offices next to Fred Segal, Lawrence-Bullard glances around and says, "You know, it's gotten a little too fluffy in here. I need to be challenged, so I think I might be doing something new …. " As his voice trails off, one wonders how balancing his explosive design career and international travel isn't already challenging enough.