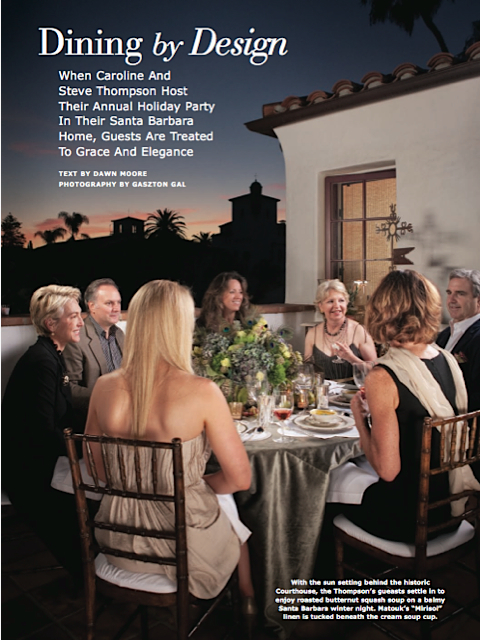 WHEN AN INTERIOR DESIGNER ENTERTAINS, one expects a beautiful tablescape. No surprise there. But entertaining with grace is a gift that can't be learned—a host either has it or they don't. And Caroline and Steve Thompson, owners of Cabana Home in Santa Barbara and Mill Valley, have it.
"My mother taught me everything I know," says Steve Thompson, "She made everything inviting." Caroline Thompson agrees with her husband of twenty six years. "It's so important our guests feel welcomed and at home the minute they walk through our door," she says. And indeed, guests are greeted at the Thompson's door with a sparkling silver tray holding the evening's wines. For their annual holiday, long time friends have gathered for what has become a twenty five year tradition. This year, the Thompsons table was arranged on their rooftop terrace at sunset. Pears and peacock feathers in an antique repousse silver bowl set the color palate and a silvered spruce velvet cloth, accented with Matouk linen Moorish key placemats echoed the surrounding mountain hues. Mixing items to create a theme inspires Caroline. "The table becomes a collection of heirloom treasured pieces," she says.
Lush fall harvest vegetables, savory rack of lamb and molten chocolate cake prepared by chef Jessica Knight, made everyone leave the table with buttons undone. "Jessica handles all our events, both at the store and at home. Everyone loves her," Caroline says. A holiday feast celebrating long time friendships deserves extra care and Jessica's attention to the freshest herbs, seasonal locally grown produce and a presentation as elegant as the hosts themselves made for a dazzling holiday fete.