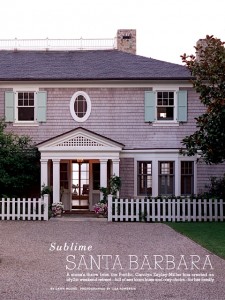 FALL-OUT FROM MEN'S MID-LIFE CRISES tend to manifest in testosterone-laced acquisitions: a blazing red Ferrari, an inflated twentysomething blonde or—at the very least—a change in facial hair. So any wife would be grateful for this predictable passage to produce a Cape Cod-style beach cottage instead. "For years, Dennis' dream was to have a beach house, and I just wasn't convinced. Finally, when he turned 50, I said, 'Okay, okay I get it!'" says Carolyn Espley-Miller about the birthday epiphany of her husband (yes, that Dennis Miller).
A frontage road outside of Santa Barbara running parallel to rattling train tracks and a hissing freeway is not where one would generally expect to find lavish homes with eight-figure MLS listings. But then again, this is California, and just 200 yards from those train tracks, waves crash against a tiny strip of white sand drowning out any manmade racket. All along this stretch (which includes fellow beach worshipers Kevin Costner and Rob Lowe), neighboring cottages range from original 1,000-square-foot modest abodes to remodeled manses behind discreetly posh gates dripping with fuchsia bougainvillea and night-blooming jasmine.
Espley-Miller asked a realtor to start the beach house search in this reclusive zip code, and the reconnaissance trek brought tears to her eyes. "In a bad way!" she giggles. "With our budget," she wondered, "this is what we're going to get?!" Then, the couple's realtor showed something way out of the budget, and once Dennis and Carolyn saw the view, the deal was sealed. As the house (only seven minutes from their main residence, an 1895 shingled Georgian by Stanford White) wasn't officially on the market, the Millers had to wait for more than a year before they got the keys. "Quite often we would drive by and peer through the gates imagining what it would be like when it was finally ours!"
That sense of childlike enthusiasm twinkles throughout Espley-Miller's speech. The former model is a both a girl's girl and demurely dignified, which supplies the perfect "yin" to her husband's sardonically witty "yang." Occasionally though, she reveals a secret sass. "When I'm asked if our house is 'green,' I say, 'Absolutely! Sea foam green!'" And indeed, a muted hue of the ocean's tint presents itself on the exterior shutters, the patio's cushions and in every room. What's more environmentally harmonious than that?
The house had been the main residence of the former owners and was a darker English country version of its current Nantucket self. Espley- Miller white-washed everything, bleached the floors and mirrored the dining room wall—allowing the sun to set in virtual stereo. "Of course, we could actually walk out there to see it, but it's cold!" she laughs, and as if on cue, winds start sweeping the (sea foam green) patio cushions into the actual sea foam, sending Espley-Miller outside to haul them in. The home's surfaces are layered with texture; rough-hewn wood walls, a cathedral beamed ceiling and stone fireplace are juxtaposed against Fortuny pillows. "Those were actually my first inspiration for the house—very non-beachy, except that color! It's the color of the ocean."
This mixing of high with low pervades Miller's style. Feet propped up on the coffee table, she muses about her childhood design talents sprouting in a cardboard refrigerator delivery box. Dragging it outside—sans refrigerator—the 8-year-old cut out windows, used Saran Wrap for glass, and plastered together bits of leftover wallpaper and carpet scraps to create her first private luxury fort. Not yet recognizing her natural bent for design, she nursed a dream to travel and write quirky little guides that she'd also illustrate. And travel she did—as a model for more than 10 years in Tokyo, Toronto and London, where the exposure to Portobello Road's antique markets sparked her latent passion for provenance. "I was always buying vintage textiles; I just made them into skirts then rather than pillows." Now—design talents fully realized— the interior styling firm she founded four years ago, Ceylon, is working on private residences in Vancouver, Los Angeles and Sun Valley. (So much for cardboard forts.)
Her latest inspiration came during a family trip to Africa. "I was into my whole Out of Africa Anglo-Colonial romantic thing." Espley-Miller's connection to Africa was instant. She felt as if she had lived there in a previous life. However, while she was experiencing déjà vu, the rest of the family was holed up in tents watching vintage Tarzan movies enhanced by live roars and squeals from Cheeta's relatives outside. Dennis brought Tarzan and their boys (sons Holden and Marlon-Oliver) brought "Lost."
Being tent-bound in the African veldt seems normal for the intensely private Espley-Miller, who revels in the company of her family. Days are spent walking along the shore with their scruffy cock-a-poo Homer (whose passion for patrolling the sands earned him the weekend alias "Beach Justice, Undercover Dog Detective") and dinners are usually take-out affairs from Lucky's or Smokin' Jack's Kansas City BBQ. Entertaining is rare, but reading in front of one of their six fireplaces is common. "I'm all about getting cozy, squishing in and nesting." And let's face it, squishing into a down-filled sofa is much easier than an Italian sports car, mid-life crisis or not. •