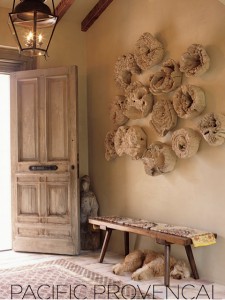 PERCHED AT A RAKISH ANGLE  ON A BOULDER IN A QUIET CORNER OF ORANGE COUNTY, nestled in rosemary and lavender in the otherwise perfectly manicured landscape, is a pacifier— left, no doubt, by three-year-old Ailee Sun when her mother, Chi-Lin, wasn't looking. When that might have been is hard to imagine as Chi-Lin Sun's world revolves around her family; husband Donald, five-year-old Olive, Ailee and Mr. Tomten, their Goldendoodle. "I always knew I'd be a stay-home mom with my kids. I couldn't imagine not!" says Sun, who works from home as a photographer.
The desire to nest is strong with the Suns, which made their choice to settle in Irvine's quietly exclusive Shady Canyon a natural one. The rambling topography is California lush, but offers the craggy terrain and saturated colors of the Southwest. "Five years ago, our realtor showed us this lot and it reminded me of Nevada—open and spread out, facing a natural hill with chaparral. Plus the breezes are perfect," says Donald. "When I saw the hawks and the heard the wildlife in the early morning, I knew this was it," adds his wife.
Shady Canyon, considered a "preservation development," encompasses 16,000 acres of pristine wilderness managed by the Nature Conservancy. Laced with idyllic sounding streets like Blue Heron, Golden Eagle and Copper Creek, its bucolic openness (and Tom Fazio-designed golf course) have made it a coveted address for prominent sports figures and young business titans looking for spacious sanctuaries. Exactly five harmonious styles of architecture, inspired by rural mountainous regions as varied as Provence, Tuscany and Santa Barbara, are sanctioned by the community's review board, allowing each to blend so seamlessly with the surrounding landscape, you'd think the structures had sprouted straight from the earth. In fact, the board is not only diligent about the exterior colors and plant choices, but also insists on 12-inch-thick exterior walls. Wendi Young, the couple's interior designer, notes Chi-Lin essentially held the reins on the project and that Donald's only requests were for a grassy yard, a lap pool and what he calls "Hobbit" decor. "Like an English cottage, cozy and small with fires going. That's kind of what I always wanted, but I settled for this," he says with a wink. At 6,800 square feet, the house qualifies as Grand Hobbit.
Young and Chi-Lin met at a mutual client's home four years ago and instantly connected. Although that particular residence was ultra-contemporary, Chi-Lin and Young agreed on a soulful aesthetic for the Suns' interiors. Once the property was purchased and the French Provence style determined, Young dug into research.
"Although it's not typically what you think of as Provence, it is authentic—the fabrics, colors, architectural details." Even Provençal scents waft through the house. As Chi-Lin rearranges herself on the 19th century Gustavian settee, lavender-filled pillows release their soft aroma, causing Mr. Tomten to peer his nose over the back to investigate. Textures are deliciously organic and imbued with tactile sensations on every surface. Chi-Lin's photographer's eye has clearly shaped the couple's art collection; Chagalls converse with paper sculptures from Merja Winqvist and Bernadette Chene along with photographs taken by their 4-year-old.
As the rooms unfold, the textural play deepens. All the fireplace mantles are antique French limestone; the floors reclaimed terra cotta tiles from French homes; the powder room walls covered in burlap trimmed with nail heads and the bed linens are vintage hemp. The infusion of provenance and life stories, whether inherent or implied, drives Chi-Lin's environs and inspires her work. A 30-year-old snapshot of her mother grocery shopping is her favorite, speaking volumes of her ability to find depth and beauty in everyday life.
The home's heart, though, lies in the children's suite. A common play area is dominated by two massive chalkboards that Chi-Lin and the girls scribble on daily.  Knitted animals created at their school are tucked in next to Olive's crystal collection and Ailee's toy horses.  The master bedroom's nightstand reveals a drawer filled with children's storytelling books; however, Chi-Lin's reading material includes: The Power of the Praying Wife, Freakonomics, The Audacity of Hope and Beyond the Rainbow Bridge; Nurturing Our Children from Birth to Seven.  Somehow this wide breadth of interests is overlooked by Donald, who teases his wife of only reading trashy magazines.  (This from the man whose iPod features the 1970's soft rock group "Bread" and other '70's through '80's soft pop.)  "Comfort music" he calls it; songs his mother sang along with around the house when he was a child.
Comfort is a word that pops up in all aspects of Sun's life; his "hobbit" décor, his mother's music, anchoring his family in the Irvine community where he grew up and where his parents are building down the street.  His father, David Sun, co-founded Kingston Technology, the world's number one memory module manufacturer, which surpassed $3.0 billion earnings in 2005.  Donald didn't have a master plan after graduating UCLA – in fact, he wanted to be a bartender – until his father asked him to join the business. "I like to think I'm a free spirit, but joining the business had been in my parents' mind for a long time."  However, unlike so many young executives climbing up the corporate ladder, Donald makes a point of being home by seven to be with his family.
Like the hand-chosen oaks on the property, the Suns may be newly planted, but they are quickly taking root in their surroundings.  Misplaced pacifiers are sure to dot this Shady Canyon garden for generations to come.