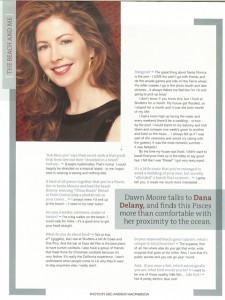 "Ask Men.com" says their secret wish is that you'd help them live out their "stranded on a beach" fantasy… ~ (Laughs hysterically) That's funny!  I could happily be stranded on a tropical island – to me, happiness is wearing a sarong and nothing else.
It kind of all pieces together that you're a Pisces, live in Santa Monica and had the beach (Emmy-winning "China Beach" filmed at Point Dume) play a pivotal role in your career. ~ I always knew I'd end up at the beach – I need to be near water.
Are you a walker, swimmer, reader or tanner? ~ I'm a big walker on the beach.  I could walk for miles – it's a good time to get your head straight.
What do you do about food? ~ Not to kiss a** (giggles), but I eat at Shutters a lot!  At Coast and One Pico.  And the bar at Casa del Mar is the best place to have sunset cocktails.  I also have a group of friends that meet there for Christmas cocktails because it's very festive.  It's really the California experience. I don't understand when people come to LA why they'd want to stay anywhere else.  I really don't.
Hangout? ~ The great thing about Santa Monica is the pier – I LOVE the pier!  I go with friends and do the arcade games and ride on the Ferris wheel, the roller coaster, I go in the photo booth and take pictures… It always makes me feel like I'm 6 and going to pick up boys!
I don't know if you know this, but I lived at Shutters for a month.  My house got flooded, so I stayed for a month and it was the best month of my life:
I had a room high up facing the water and every weekend there'd be a wedding – or two – by the pool.  I would stand on my balcony and look down and compare one week's gown to another and listen to the music… I always felt as if I was part of the ceremony and would cry (along with the guests).  It was the most romantic summer – it was fantastic!
By the time my house was fixed, I didn't want to leave!  Everyone lined up in the lobby to say good-bye.  I felt like "Eloise!"  I got very teary-eyed…
It's a little ironic that you've managed to avoid a wedding of your own, but secretly "attended" a bunch that summer… ~ I gotta tell you, it made me much more interested…
In your seasoned beach-goer's opinion, what's unique to SoCal beaches? ~ The expanse, first of all.  Nowhere else do you get that wide, wide expanse that goes on for miles.  Also, I love that it's public access and you can go year 'round.
And… if you were a fish, which astrologically you are, what kind would you be? ~ I want to be one of those sparkly little fish… Like bait? ~ No! A pretty electric blue one!