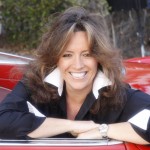 A native Angeleno, Dawn's personal and public personae have followed a path less traveled.   Successfully navigating 35 years in luxury retail honed her eye for intriguing design whether found in the besom pockets of a couture jacket, the sparkle of a diamond drop, the curve of a 18th century rococo console or a 1940's hand-tooled leather Bohlin gun belt.  Raised by film industry parents whose love of building (seven homes) and antique collecting (untold hundreds) exposed her to a wide swath of the world's creative talents.  Or at least some of the most idiosyncratic.
In 2010, Dawn made a personal passion a professional occupation by launching "Moore About…" to enfold retail marketing, creative writing and her latest venture – pre-fab design.
She lives with her 1959 Corvette in a Case Study-meets-San Ysidro Ranch pre-fab at the crest of Topanga Canyon.